Welcome to the Boyd Music Center Site!
Always remember, "You've Got a Friend," at Boyd's!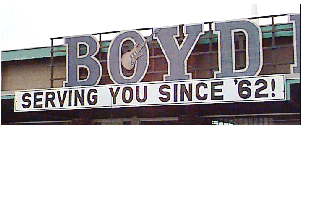 You need to "BookMark" this site. Then look
around, check everything out, and come back Often!

Boyd Music Center
5702 W. 12 th Street
Little Rock, AR 72204
(see the "map" on the "Menu Page")
Phone: 501-664-3614
Fax: 501-664-3645




The NEW Winter '99 YGAF is now available in PDF format!
Click here for the download options.

Huge discounts on selected items!
Click here to learn more...!!!


Little Rock Sounds, 1965-69


Pictorial Review.

This page will take a couple of minutes to load but you will love it!

Also on the Boyd site:
We now have an online version of our in-store "Bulletin
Board." Check it out if you are looking to join a band,
or if you want to form a band. You might also find a
few other oddities here as well.
We are also adding new vendor links almost every day.
Please check out our "Vendor Links" page if you are interested.


Click the image to leave email to the Site Manager, Bob Lincoln.

for the Table of Contents and the HOT NEWS!
under any circumstances!!!
The Boyd Site has been accessed abouttimes.
This site was designed and created by Bob Lincoln @ W.D. Entertainment.
Copyright © 1997, 1998, 1999, 2000 by Bob Lincoln.