Welcome to the Arkansas SunScope Website!
---
Q: What is SunScope, what does it do, and how does it work?
A: Perhaps these questions are better answered with a few illustrations
along with the explanations.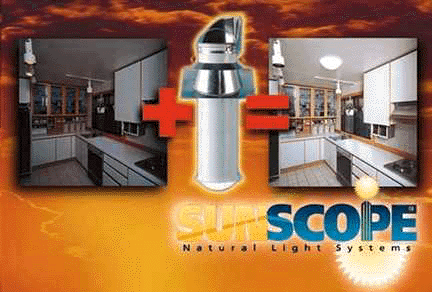 The SunScope is a super-reflective, maintenance-free natural light
system that allows daylight to illuminate your home. Daylight is
reflected down the cylinder to a translucent ceiling fixture, which
uniformly diffuses natural light throughout your home -
even on a cloudy day!

---
Please click the topics below to learn more about SunScope...

Benefits of the SunScope natural lighting system...


Applications for the SunScope, with before & after photos!!!


Sunscope vs. the "Competition"...


Frequently asked questions or FAQs about SunScope...


SunScope vs. Skylight comparisons...


SunScope vs. Incandescent Lighting comparisons...


Employment Opportunities in Arkansas...


SunScope dealers in your area...


Ordering information for the SunScope, use your credit card...


Warranty...


Link to the SunScope Parent Company Website...
---
Click Below to send email to the Site Host, Rick Finkbeiner.
arsunscope@compuserve.com
---
To navigate our Website use the Back/Forward buttons on your browser!
---
This site has been accessed about
times.
---
This site was designed and created by Bob Lincoln @ W.D. Entertainment
Copyright © 1997, 1998, 1999, by Bob Lincoln.